Young presenters program
There will be a special program for young presenters.
Young Presenters Awards
There will be two young presenters awards, one for the best oral presentation and one for the best poster presentation. Both will be handed over during the closing ceremony. Such awards boost your CV and make your contribution and name known to a larger audience.
Best Student Presentations
| | | |
| --- | --- | --- |
| Best Student Oral Presentation Award | Simon Cazaurang | S1906. Numerical assessment of thermo-hydraulic properties of Sphagnum moss, lichen and peat from a permafrost-dominated Arctic wetland. |
| Best Student Remote Presentation Award | Gleb Shishaev | S1810. Uncertainty Quantification of depositional and structural properties with Generative Deep Learning and Graph Convolutions |
| | Rayan Kanfar | S0601. Stochastic Geomodelling of Karst Morphology by Dynamic Graph Dissolution |
| Best Student Poster Award | Enrico Scarpa | S1607. Dynamic connectivity measures on turbidite channel complex architectures |
Bowling Event - organized by the Nancy student chapter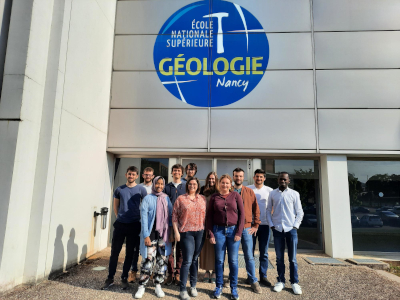 The IAMG Student Chapter of Nancy is happy to invite all the students in Nancy for a festive event. We would like to bring the students together for bowling (drinks and food included). We are asking for a 5$ participation fee for this event.

Date: Tuesday 30th of August in the evening.

Please register in our web shop under:
http://www.iamgmembers.org/catalog/index.php?main_page=index&cPath=109_114
IAMG student grants
The IAMG can financially support both your work and your travel, through the IAMG Student Research Grants Programme, the Student travel grants and the IAMG Student Chapters. Information can be found at:
---
IAMG2022 sponsored by: