22st Annual Conference of the International Association for Mathematical Geosciences
News
Special issue
How are big data, AI and machine learning algorithms challenging geostatistical and Bayesian formalisms?
Please submit your contribution until Feb. 24, 2024 over the Springer submission system. For more information you can download the flyer.
Farwell and see you in 2023 in Trondheim
IAMG 2023 is over. We had 2 pre conference short courses, 1 post conference field trip, 8 plenary keynote speakers, 4-5 parallel scientific tracks hosting 23 sessions, 211 on site participants and 20 remote participants, presenters from 32 countries presenting 200 contributions. Farwell and see you at the IGC 2024 in Busan, Korea.
Panel debate
Here you find the transcript of the panel debate to AI and Geostatistic.
Best Student Presentations
Best Student Oral Presentation Award
Waleed Diab: S2206. Learning the Solution Operator of Flux Functions for the Parametric Transport Equation in Porous Media Using Physics-Informed DeepONet
Best Student Poster Award
Robin Andre Rørstadbotnen: S1207. Quick clay monitoring using surface wave recorded on a distributed acoustic sensing array.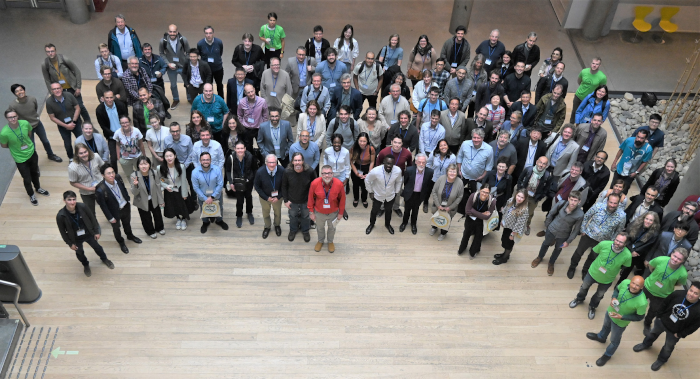 August 2

Streaming links are out.

Please check your spam folder or contact the office in case you don't got it.

August 2

Short abstract volume
Here
you can download the short abstract volume.
July 21
Information about locations, meeting points, buses, … are online available
Here
you can download a pdf.
Welcome
It is our great honor to welcome you to Trondheim in 2023. We are looking forward to workshops, excursions and field trips, presentations, and scientific and social discussions. The thematic core of the conference will circle around data exploitation, modelling, and management in a world of ever-increasing amount of geodata. Predictions, whether it is data or model driven, must be communicated. We therefore wish to highlight how mathematical geosciences have been and should be communicated across scientific boundarie.
About IAMG
The International Association for Mathematical Geosciences is a international scientific multidisciplinary society with about 700 – 800 members in over 65 countries.
The mission of the IAMG is to promote worldwide the advancement of mathematics, statistics and informatics in the geosciences.
Key Topics
Mining geostatistics and geometallurgy
Meshing
Machine learning
Non-linear regression
Optimization
Petroleum geostatistics
Tectonics
Uncertainty modelling
Geochemistry
Flow in porous media
Resource potential estimation and prospectivity mapping
CODA
Geodynamics
Analysis of spatio-temporal data
3D (geometric) modelling
Computational petrology
Geophysics and inversion
Geologic forward modeling
---
IAMG2023 sponsored by: