Attractions
Relevance of Pennsylvania to IAMG2019's Conference Theme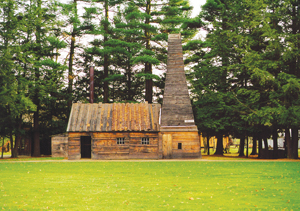 While 2019 would be the 160th Anniversary of the first commercially successful oil well drilled by Edwin Drake at Titusville, Pennsylvania, this region is also world renowned as a world leader in the mining of both anthracite and bituminous coal. In a landscape once dominated by large water-powered gristmills and lumber mills, large hydroelectric power stations such as Safe Harbor Dam, and the nation's first commercial nuclear power plant also went online in 1957. Today, oil is once again being drilled on a commercial scale in northern Pennsylvania, coal gasification and liquefaction is providing a new lease of life for the fossil fuel industry, and the state also boasts major investments in wind farms, solar and geothermal heated homes, and ethanol plants.
About State College Area
State College is a small town located in central Pennsylvania nestled within the Appalachian Mountains and in close proximity to several major cities. There are numerous activities that one can engage in and around State College:
Great hiking, boating, and fishing. Some of the best fly fishing in the U.S. is in this area. Areas include Rothrock State Forest, Black Moshannon State Park, and Raystown Lake.
Penn's Cave is located about 20 minutes from town and there are several very scenic drives through Amish communities.
Niagara Falls is located about four hours to the North, and Toronto Canada is five hours to the north.
Gettysburg and other civil war battle sites are located within a few hours drive.
The Drake Well Museum is in Titusville, PA where in 1859 Edwin L. Drake drilled the oil well that launched the modern petroleum industry.
The Penn State Creamery, located on campus is a great place to get ice cream.
Several Museums, including the All Sports Museum, the Pennsylvania Military Museum, the Boal Mansion, and the Palmer Museum of Art.
Washington, Pittsburgh, and Philadelphia are just over a three-hour drive from State College. New York City is about four hours.
About Penn State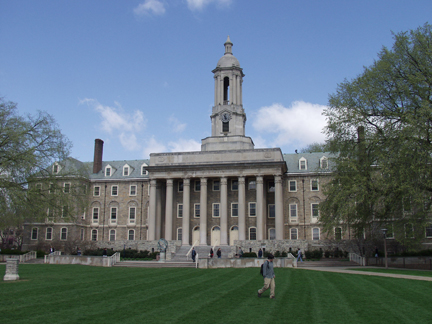 Twenty-four campuses; 17,000 faculty and staff; 100,000 students; a teaching hospital that provides care to more than a million patients a year; over one-half million active alumni; an online World Campus that empowers anyone to pursue an education— anytime, anywhere; and the largest student-run philanthropic organization on the planet – these are what make
The Pennsylvania State University an elite public university in the U. S. and one of the top ranked institutions world-wide. The Penn State Institutes of Energy and the Environment and The Institute for Cyberscience bring together faculty from different disciplines and across campuses to focus on the major challenges facing society. These two multi-
disciplinary research centers will also play a major role in the organization of the proposed conference by providing crucial inputs to the organizing and scientific program committees and by sponsoring various conference activities.
About the College of Earth and Mineral Sciences
The College of Earth and Mineral Sciences at The Pennsylvania State University is comprised of five highly ranked academic departments: Energy and Mineral Engineering, Geography, Geosciences, Materials Science and Engineering, and Meteorology; three research institutes: Earth and Environmental Systems Institute (EESI), EMS Energy Institute (EI), and the Institute for Natural Gas Research (INGaR); and an innovative online education institute, the John A. Dutton e-Education Institute. It is home to approximately 250 faculty, 125 staff, 1,500 undergraduates, and 550 graduate students. Established in 1896, the College has an outstanding reputation for high-quality teaching and student centeredness, as well as research and service to industry, government and communities. The College is a world leader in generating the fundamental knowledge needed to develop novel solutions to challenges such as:
achieving energy security,
sustaining a viable planetary life support system,
developing new materials to meet societal needs, and
creating knowledge of how changing human goals and values will influence the scientific questions of the future.
Through activities such as Africa Array, Penn State geoscientists are devoted to building a more diverse geosciences work force. They strive to create a better- informed public, prepared to make critical decisions concerning natural resources, natural hazards, and environmental impacts, for example by operating an open seismic network for Pennsylvania. The Energy and Mineral Engineering program produces petroleum engineers, mining engineers, energy and geo-environmental engineers, environmental systems engineers, health and safety professionals, fuel scientists, and energy and business professionals. These engineers and scientists address the delicate balance between societal needs for more energy and mineral resources and the management, health and safety, and environmental impacts associated with the production, processing and utilization of these resources. The Geography department is home to several research centers including the GeosyntheSES Laboratory that focuses on Geographic Synthesis for Integrative Human- and Social-Ecological Sustainability and the GeoVISTA Center for Integrated and innovative research in GIScience. Researchers affiliated with the Meteorology department are engaged in cutting-edge research in the science and technology of numerical weather prediction using mathematical models of the atmosphere, statistical meteorology, remote sensing, and extreme events modeling.
Getting to State College
Here
you can find information how to travel to State College.